You don't have to fork over thousands for greasy takeout when there are easy homemade recipes to save money available. The average American family spending on food destroys budgets.
Most families literally eat through their income. They knowingly spend more than they can afford on groceries or dining out. One of the best ways of reining this easily-bloated food budget would be to cook at home.
Even if you don't know how to cook, there are tons of tasty, cheap, and easy-to-cook meals that you can try out.
The recipes we will showcase below are perfect for families that are looking for budget-friendly meals. You really do not have to scrimp on flavor to find that delicious taste you want at the end of the day.
Up next, we've got a few simple, yet flavorful meals for everyone. Let's get started.
One-Pot Thai-Style Rice Noodles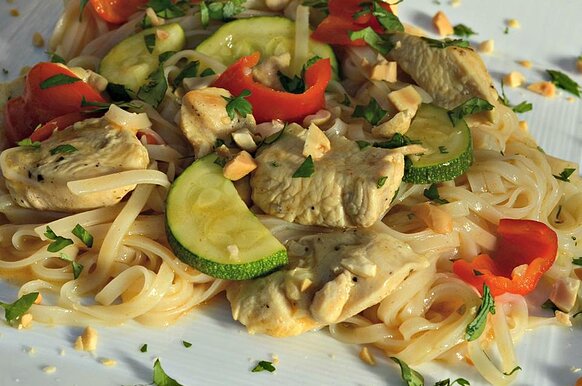 This is a perfect quick and one-pot meal for the whole family.
What You Will Need
Cornstarch – 2 tablespoons
Water – 1 ½ tablespoon.
Chicken broth – 6 cups.
Soy sauce – 2 ½ tablespoons
Fish sauce – 1 tablespoon
Rice vinegar – 1 tablespoon
Chile-garlic sauce – 1 tablespoon
Vegetable oil – 2 teaspoons
Minced fresh ginger – 2 teaspoons
Garlic – 2 cloves, minced.
Ground coriander – 1 teaspoon
Coriander
Rice noodles – 16 ounces
Zucchini – 1 cup sliced
Red bell pepper – 1 cup, sliced
Chicken breasts – 2 breasts half bone, with the skin removed, and cut into 1-inch cubes
Peanuts – ¼ crushed
Cilantro – ¼ cup chopped
Procedure
Step 1 
Start by stirring the water and cornstarch together in a small bowl until it's smooth. Next, pour in the chicken broth into a big pot and stir in the mixture you have prepared.
Add in the soy sauce, fish sauce, rice vinegar, ginger, garlic, vegetable oil, chile-garlic sauce, and coriander. Cover the pot and bring it to a boil.
Step 2
Put the rice noodles in the boiling sauce and reduce the heat to a medium flame. Simmer this until tender for around 5-10 minutes. Then stir in the red bell peppers, zucchini, and the chicken into the sauce.
Bring everything to a boil again and then cover and simmer till the veggies are just tender. This should take around 5 minutes.
Step 3
Remove the pot from the heat and leave it to stand while covered for around 5 minutes so it can thicken. Serve this garnished with crushed cilantro and peanuts.
Four-Ingredient Red Curry Chicken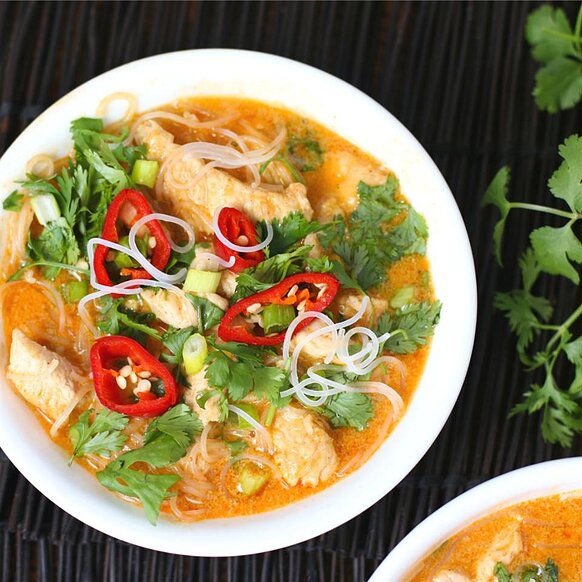 This red curry chicken requires just four ingredients and goes well with noodles. It is also a quick, easy, and inexpensive recipe to make.
The sweetened coconut milk will make it taste unbelievable, plus the toppings of green onions, cilantro, and red chili peppers will make everything come together.
What You Will Need
Coconut oil – 2 tablespoons
Boneless chicken breasts – 16 ounces, cubed
Coconut – 1 ¼ ounce of creamed coconut
Red curry sauce – 11 ounces
Stick of vermicelli noodles – around 16 ounces
Instructions
Step 1
Start by heating a large skillet on high heat. Then add the chicken cubes, and cook till they are well browned. This should take around 2 minutes on each side.
Reduce the heat to medium-high and then add the coconut cream and the curry sauce. Cook this until the chicken is no longer pink at the center and the juices start to run.
This should be around 5 minutes. If you have an instant-read thermometer, make sure it reads 165 degrees when you insert it.
Step 2 
Fill a pot with salted water and bring this to a rolling boil. Then stir in the pasta and return it to boil so it can cool. Cover it while it cooks and occasionally stir it until the pasta is tender but firm to the bite.
This should take around 4 – 5 minutes. When cooked, drain the water immediately.
Step 3
In this step, reduce the skillet to a simmer so the noodles can cook slowly. Let the flavors get absorbed in the noodles. This should take around 5 minutes. Divide the chicken and the noodles for individual serving bowls.
Conclusion
These are delicious recipes you can try out for your family, and who doesn't love noodles? They are quick to cook and extremely delicious. Enjoy these meals with your family and save those dollars for something big.